The first Saturday of every month is spinning day. What that means is my friends Joanne, who is in a master spinners program, and her sidekick Cady volunteer and demo spinning at the
Corpus Christi Science and History Museum
. They are always on the lookout for fellow spinners, so when they found out I spun, they snagged me. The spinners sit on this funny little stage area.
Nearby are old tractors, and coaches.
Check out this collection of old irons. It reminds me of Edna Turnblad( from the John Waters movie, Hairspray) lamenting about how much ironing she does.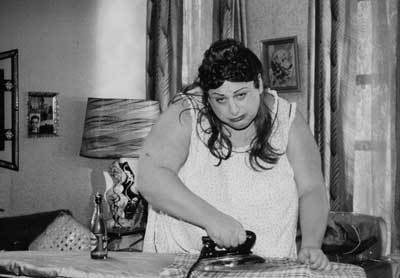 We always take a lunch break and eat at the
Brewster Street Ice House
.
 Yesterday, I ordered  an avocado stuffed with chicken salad.  I thought this would be a nice and healthy meal along with my "sweet tea".  So when the server brought me this deep fried dinosaur egg bomb  I was a little surprised.  Texans will deep fry anything.  It really cracked me up.  By the way, I did end up eating it.  Now where's that deep fried Snickers bar???
So here's what I ended up spinning.  It's corriedale roving from Judy in Utah.  The colorway is called 'purple mist' I'll post a photo of it all plied because it looks less "Easter eggy" once plied.